La Marca Extra Dry Prosecco di Conegliano-Valdobbiadene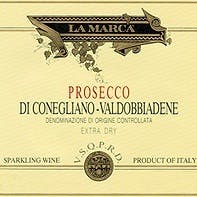 Our cuvee is a sparkling wine obtained from "Charmat" method and produced with selected Prosecco grapes of the DOC hill country between Conegliano and Valdobbiadene. It has a fine perlage, a vivacious acidity, a medium body, a velvet suppleness and right sapidity: it's a wine to drink in every occasions. It can be a wonderful aperitif, but also an ideal wine to accompany light fish, risotto and cheese. Excellent also with the dessert.
Wine SpectatorA delicate, well-balanced Prosecco, showing a good blend of baked apple, sour lemon and grapefruit, with a lightly creamy mineral texture on the palate. Medium froth, with some body and a pleasant lemon and mineral finish. Best prosecco out there at the moment. Drink now. 50,000 cases made.